Hollywood Stock Exchange has been quite fun the last few weeks. Take a look at my progress since January: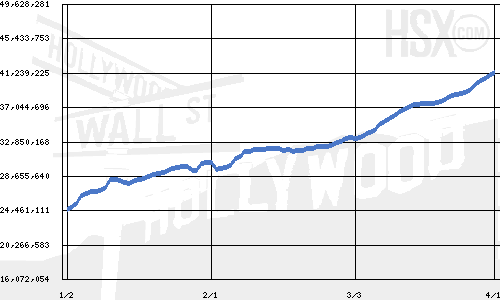 I believe most of it was the result of maxing shares in OCEN3 (Ocean's Thirteen), RUSH3 (Rush Hour 3), and WARNE (Will Arnett). While OCEN3 had news of confirmed sign-ons for the sequel, WARNE was simply involved with ICEA2 (Ice Age 2), which just made $70.5 million on its opening weekend (a March box office record!).
I'm closing in on the 97th percentile with H$42,270,144.32 in my portfolio.
One Response to 'HSX Status Update'
Subscribe to comments with RSS or TrackBack to 'HSX Status Update'.
Leave a Reply