Remember my Nuttin' But Stringz post way back when? They made it top the Top 5 acts of America's Got Talent! Unfortunately, they landed in third place while Neal "Meatball" Boyd landed in first.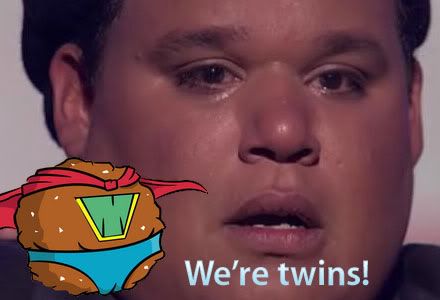 Unbelievable! No one sings like that anymore. I think this Jerry-Kramer conversation from the episode "The Opera" sums it up pretty well:
KRAMER: So, what do you think?
JERRY: About what?
KRAMER: About the opera.
JERRY: Nah, I don't wanna go.
KRAMER: You gotta go.
JERRY: I-I-I don't like the opera. What are they singing for? Who sings? You got something to say, say it!
KRAMER: Jerry, you don't understand, that's the way they talk in Italy. They sing to one another. (Kramer starts to sing in bad Italian.)
JERRY: All right, all right.
KRAMER: That's the way it was, you know. You listen to the language, its got that sing songy quality. It's the language Jerry, the language.
JERRY: So why don't they talk like that now?
KRAMER: Well its, uh, well its too hard to keep up, you know. They were tired.
We're tired of your singing, Neal!
One Response to 'A Travesty of Epic Proportions'
Subscribe to comments with RSS or TrackBack to 'A Travesty of Epic Proportions'.
Leave a Reply