Archive for the 'Interesting Links' Category
I tweeted about this before, but I thought this funny video deserved its own blog post. So let's say you live in "TV Land" and you have a blurry security camera tape. What do you do? No, you don't call Tommy Lee Jones and ask him to put up on the big screen. You just need any number of computer geeks from CSI, NCIS, Numb3rs, 24, Alias, Law & Order, etc. and ENHANCE. Also look for reflections in an eye, mirror, or glass door.
It's too bad they didn't include the episode of Family Matters where Steve Urkel does this.
I'm not sure how I came across this, but it is pretty funny.
Apparently, he has very good pronunciation according to Indian YouTubers.
Gap has released some strange ads for their new holiday line of clothes. Check out the rest at their full site. Dwight is even in some of them!
Someone really needs to tell Flo Rida to stop doing "the steering wheel" dance move.
Watch as Eric "The Eel" Moussambani takes on the Equatorial Guinea 100m Freestyle record (set by himself) of 1:53!
I caught this during the amazing USA win in the 4x100m Freestyle. These French swimmers need to scrub their backs a little more. A lot of dirt accumulates there…and it seems to funnel directly into his
.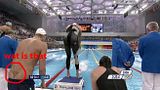 Phillip "Pacman" Chbeeb faces off against Robert "Mr. Fantastic" Muraine in a popping battle on the season 4 finale of So You Think You Can Dance.
Who do you think won?