Archive for the 'Sports' Category
Watch as Eric "The Eel" Moussambani takes on the Equatorial Guinea 100m Freestyle record (set by himself) of 1:53!
I caught this during the amazing USA win in the 4x100m Freestyle. These French swimmers need to scrub their backs a little more. A lot of dirt accumulates there…and it seems to funnel directly into his
.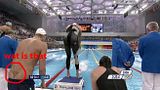 The 2008 Summer Olympic Games in Beijing, China have begun (yesterday, actually)! Unfortunately, this means many unique people will crawl out of their hovels to show their national pride in strange ways:
Even so, I look forward to seeing the USA Basketball "Redeem Team" take it to Yao and his unknown cohorts. Also, it seems like no one cares about any of the USA swimmers except Michael Phelps. I feel bad for Ryan Lochte since he is good but is considered a second-rate Phelps to the Olympic marketing team. I've also never heard of him until a couple days ago.
What are you doing?!
"Mister, we're trying to help the homeless here. It's bad enough that we have some nut out there trying to strap 'em to a rickshaw!"