Archive for the 'funny' tag
I tweeted about this before, but I thought this funny video deserved its own blog post. So let's say you live in "TV Land" and you have a blurry security camera tape. What do you do? No, you don't call Tommy Lee Jones and ask him to put up on the big screen. You just need any number of computer geeks from CSI, NCIS, Numb3rs, 24, Alias, Law & Order, etc. and ENHANCE. Also look for reflections in an eye, mirror, or glass door.
It's too bad they didn't include the episode of Family Matters where Steve Urkel does this.
I'm not sure how I came across this, but it is pretty funny.
Apparently, he has very good pronunciation according to Indian YouTubers.
Season 5 episode 6. Wow, it has been a long time since my last episode recap. But I am back in (small) force with one of the best scenes of the series. Here, we see Michael helping Jim and Dwight improve their sales pitches to their clients after they receive poor customer reviews.
Remember my Nuttin' But Stringz post way back when? They made it top the Top 5 acts of America's Got Talent! Unfortunately, they landed in third place while Neal "Meatball" Boyd landed in first.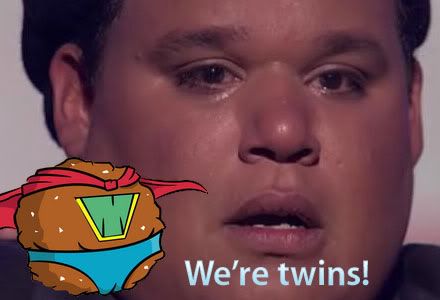 Unbelievable! No one sings like that anymore. I think this Jerry-Kramer conversation from the episode "The Opera" sums it up pretty well:
KRAMER: So, what do you think?
JERRY: About what?
KRAMER: About the opera.
JERRY: Nah, I don't wanna go.
KRAMER: You gotta go.
JERRY: I-I-I don't like the opera. What are they singing for? Who sings? You got something to say, say it!
KRAMER: Jerry, you don't understand, that's the way they talk in Italy. They sing to one another. (Kramer starts to sing in bad Italian.)
JERRY: All right, all right.
KRAMER: That's the way it was, you know. You listen to the language, its got that sing songy quality. It's the language Jerry, the language.
JERRY: So why don't they talk like that now?
KRAMER: Well its, uh, well its too hard to keep up, you know. They were tired.
We're tired of your singing, Neal!
Watch as Eric "The Eel" Moussambani takes on the Equatorial Guinea 100m Freestyle record (set by himself) of 1:53!
I caught this during the amazing USA win in the 4x100m Freestyle. These French swimmers need to scrub their backs a little more. A lot of dirt accumulates there…and it seems to funnel directly into his
.